A Grammar Compass for All
Teachers, methods, and materials come and go, but with Grammar Grandma there is always a dependable resource to refer to in case confusion arises.

SAVE TIME
A comprehensive selection of the most common grammar elements, all in one place.

WORK SMARTER
Clear and concise. No long, boring explanations or confusing examples to sift through.

DIGITAL NATIVE
From book to binary: students of today respond to things that respond to them.

A Closer Look
Grammar Grandma has been designed from the ground up to supplement any classroom materials currently in use.
The system is made of 4 parts:

The Book
What's Inside
150 colorful pages detailing 60 grammar elements and 12 verb tenses.
Simple, 1-2 sentence bilingual explanations with diagrammed examples.
Practice pages for every grammar concept with extensive exercises.
Practical and intuitive '1 page, 1 concept' layout.
Helpful hints and tips to remember on every page.
Large, legible, kid-friendly fonts.

Posters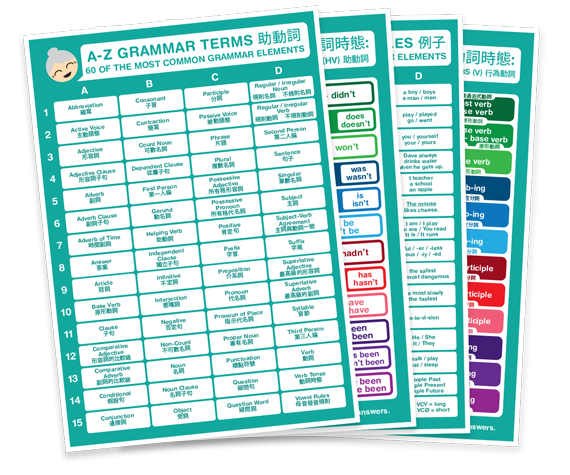 Big + Bold
60 grammar elements and examples in one place for quick-reference.
Tense poster features our proprietary color-coded tense system.
Depicts subject, helping verbs, and action verbs.
Bilingual translations for all major tenses and elements.
Makes it easy for kids to organize and memorize.
Available in high-resolution A3, A2, and up.

Flashcards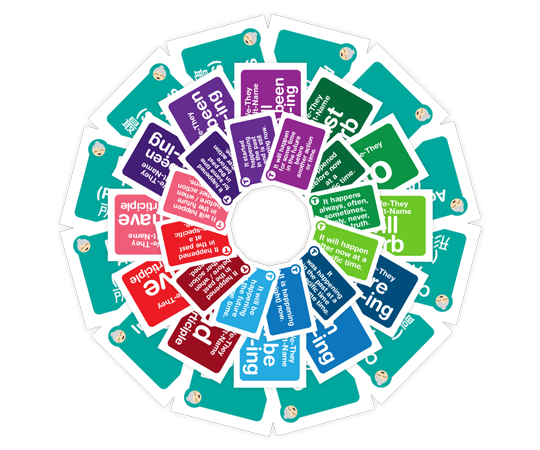 Quick + Colorful
50 color-coded verb tense flashcards with bilingual translation on front.
Great for reviewing time usage, helping verbs and action verbs.
60 grammar element cards with bilingual translations on front.
Features examples and explanations on the back.
Cards are printed on high-quality, durable playing card stock.
Decks available in mini, standard, and jumbo sizes.
Online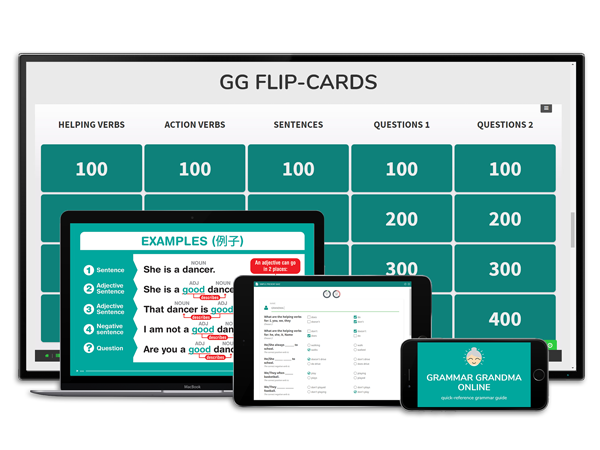 Fully Interactive
Every concept from the book formatted responsively to fit any screen.
Listen + learn with accompanying audio files for every concept.
Review with our slide videos and custom flip quiz game boards.
Works great as classroom games or self-guided review.
Test comprehension with 10-question quizzes and email the results.
Quiz scores get tallied on a leaderboard updated in real-time.